Consequences of antimicrobial resistance
Many infections are becoming more difficult to treat due to antimicrobial resistance- this is a global health crisis!
In 2016, approximately 700,000 people died due to antimicrobial resistance. If nothing changes, by 2050 antimicrobial resistance will result in 10 million deaths per year. This represents one death every three seconds due to antimicrobial resistance by 2050.
There are specific microbes that are of particular concern. These microbes are extremely difficult to kill because they are resistant to multiple antimicrobial medicines (often because of multiple resistance mechanisms). Some examples of these microbes are given below.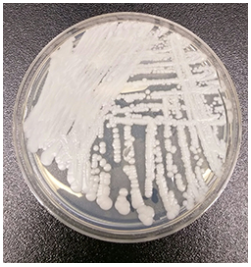 Petri dish growing Candida auris
Candida auris
| | |
| --- | --- |
| Type of microorganism | Fungus |
| Type of infection caused | Ear, bloodstream, brain and heart. |
| Danger to humans | 1 in 3 people with a Candida auris infection die. |
| Global distribution | Europe, North America, South America, Asia. |
| Resistance status | Resistant to fluconazole and amphotericin B. Varying resistance levels to other azole antifungals have been reported. |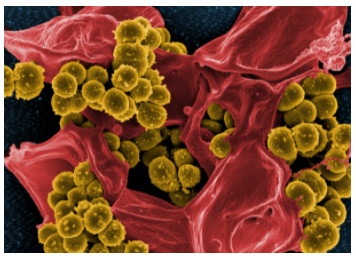 Staphylococcus aureus shown under scanning electron micrograph
Methicillin resistant Staphylococcus aureus (MRSA)
| | |
| --- | --- |
| Type of microorganism | Bacteria |
| Type of infection caused | Skin, wound, pneumonia and bloodstream. |
| Danger to humans | 20-50% of patients with a MRSA infection die. |
| Global distribution | Europe, North America, South America, Asia, Australia, Africa. |
| Resistance status | Resistant to methicillin. Cephalosporin resistance has also been reported. |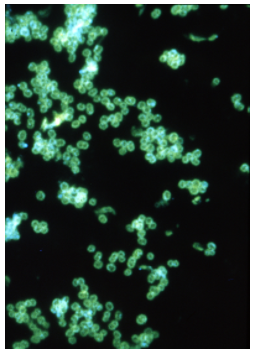 Fluorescent stained Neisseria gonorrhoeae shown under fluorescent microscopy
Neisseria gonorrhoeae
| | |
| --- | --- |
| Type of microorganism | Bacteria |
| Type of infection caused | Causes gonorrhoea, a sexually transmitted disease. Gonorrhoea can cause permanent health problems such as infertility in both men and women. |
| Danger to humans | In rare cases this infection can spread to the bloodstream (which is life threatening). |
| Global distribution | North America, South America, Africa, Australia, Asia, Europe. |
| Resistance status | Resistant to cephalosporins, tetracycline and azithromycin. |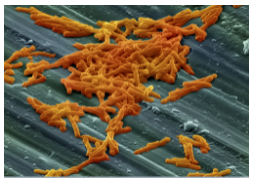 Clostridium difficile shown under scanning electron microscopy
Clostridium difficile
| | |
| --- | --- |
| Type of microorganism | Bacteria |
| Type of infection caused | Diarrhoea |
| Danger to humans | 6-30% of patients suffering from Clostridium difficile infections die. |
| Global distribution | Europe, Northern America, Australia, Asia. |
| Resistance status | Resistant to fluoroquinolone antibiotics. |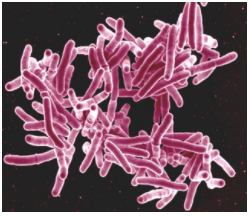 Mycobacterium tuberculosis shown under scanning electron microscopy
Mycobacterium tuberculosis
| | |
| --- | --- |
| Type of microorganism | Bacteria |
| Type of infection caused | Tuberculosis -, which is primarily a lung infection. |
| Danger to humans | In the extreme cases -, mortality rates of 50-60% have been reported. Responsible for 250,000 deaths each year. |
| Global distribution | Europe, North America, South America, Africa, Australia, Asia. |
| Resistance status | Resistant to isoniazid, rifampin and some fluoroquinolones. Resistance to amikacin, kanamycin and capreomycin has also been reported. |