Antimicrobials in animals
There are only a limited number of antibiotic classes and many of these need to be used for both animal and human health. However, the antibiotics that are used in animals are always a veterinary specific formulation of the drug and are assessed by independent scientific regulators for safety (both human and animal safety) before they can be used in animals.
Between the 1940s - 1980s, scientists were discovering more and more antibiotic compounds. If bacteria developed resistance, doctors were confident they could just switch to a different antibiotic to treat the infection. More recently, the discovery of new antibiotic compounds has slowed significantly. No new classes (or groups) have been discovered since the 1980s. It has become too much of a risk for pharmaceutical companies to invest millions of pounds trying to discover new antibiotics in a process that can take up to 15 years. Pharmaceutical companies were forced to cut back or pull out of antibiotic research, and the antibiotics used today are derived from classes that had been discovered by the mid-1980s. We have to therefore keep the ones we have effective for as long as possible.
The World Health Organisation (WHO) has set out a list of 'Critically Important Antibiotics'. The World Organisation for Animal Health (OIE) also set forward a list of antimicrobials that are important to animal health, and there are a high number of medicines that are on both lists. This includes antibiotics used to treat serious infections in humans and animals that are caused by bacteria which have become resistant to most treatments. To treat human and animal diseases effectively without increasing antimicrobial resistance to these 'Critically Important Antibiotics', these and other antimicrobials must be used responsibly. For critically important antibiotics, using them responsibly means reserving them for use to treat infections that won't respond to treatment with any other antibiotic.
Responsible use can save the lives of both animals and people and preserve and conserve antibiotics for the future, meaning they will remain available and effective to treat both human and animal infections. By using fewer antimicrobials in humans and animals, there is a lower chance of bacteria becoming resistant1.
The Responsible Use of Medicines in Agriculture Alliance (RUMA) was established in the UK in 1997 and promotes high standards in food safety and animal health and welfare. RUMA have set out guidelines for famers and veterinary surgeons on both the use of antimicrobials and in how to reduce the need for antimicrobials. These guidelines include:
Good biosecurity
Good hygiene
Improved nutrition
Reduction of stress
Increased uptake of vaccines
More recently, the RUMA Targets Task Force has also helped to coordinate a successful UK voluntary approach to the responsible use of antibiotics2. This approach has been very successful with the UK usage of antibiotics in animals more than halving from 2014 to 20183.
The 'Antibiotic Guardian' is an initiative run by Public Health England to encourage members of the public and healthcare professionals to help slow antibiotic resistance and share how they are using antibiotics responsibly. By using medicines responsibly, in both humans and animals, this prevents the increase in antimicrobial resistance so that important medicines remain available and effective for those individuals who need them4.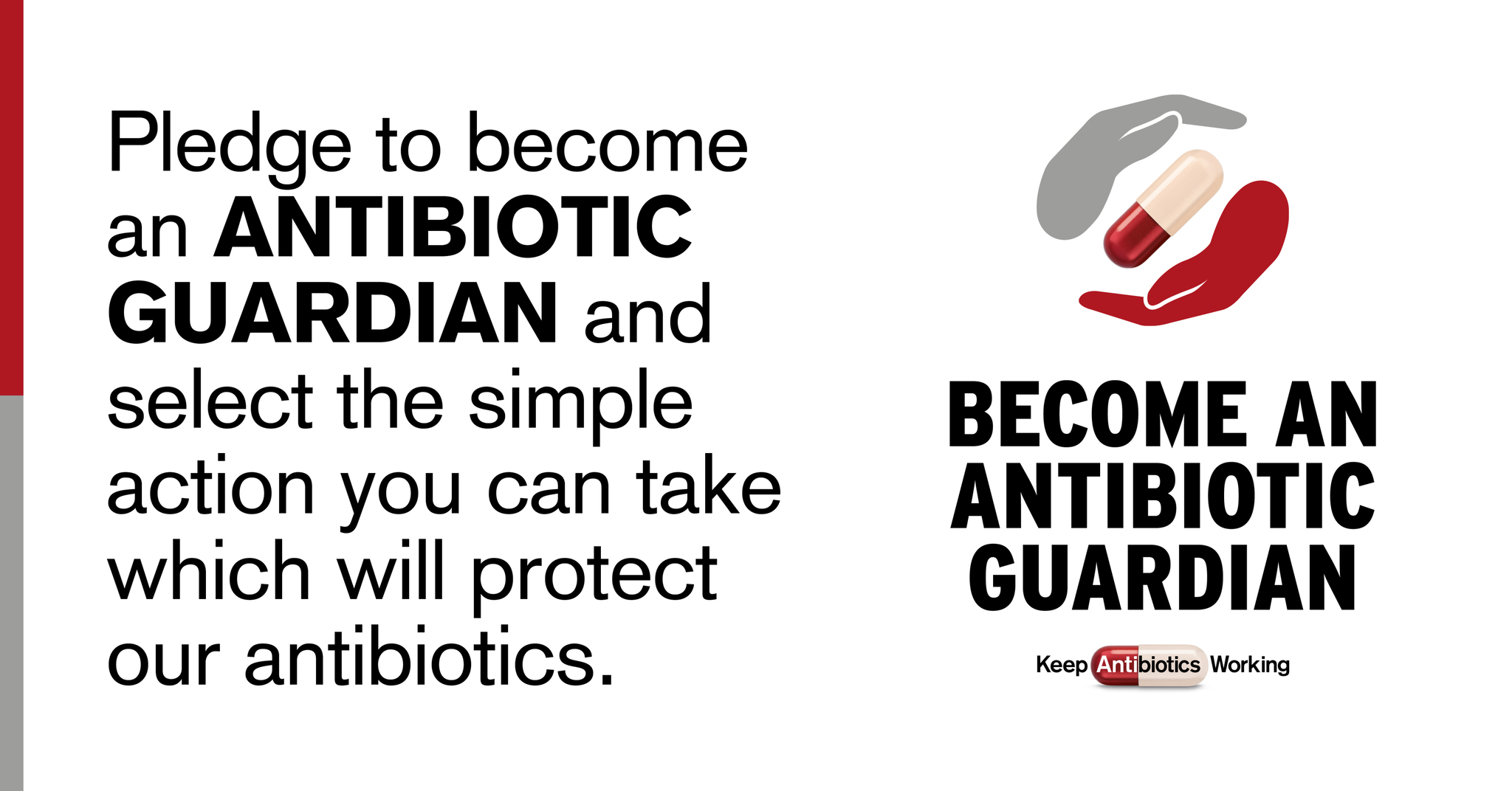 Become an Antibiotic Guardian, Public Health England
For more information…
Farm antibiotics website - here
This website is about antibiotics and UK farming, providing news, facts, statistics, science and links to industry and government reports.
References
European Medicines Association, 'Responsible use of antibiotics protects animals and people' Link to source.
Responsible Use of Medicines in Agriculture Alliance, 'Targets Task Force' Link to source.
Responsible Use of Medicines in Agriculture Alliance (2019), 'Targets update shows further progress towards farm antibiotic goals – but with more to do' Link to source.
Public Health England, 'Antibiotic Guardian' Link to source.