But don't assume from their name that they can only be found in adults – adult in this context just means 'not early-embryonic'! Therefore, any partially differentiated multipotent cell in an embryo, foetus or living human is an adult stem cell.
Cord blood cells - a type of multipotent cell found in the blood of the umbilical cord - are another type of adult stem cell often used in medicine as they can differentiate to form all types of blood cells. In fact, they are the same as the haematopoietic adult stem cells found in (and extracted from) the blood stream and from bone marrow (a spongy tissue found inside some bones), which also differentiate to form blood cells as shown in the diagram. You may have heard of a bone marrow transplant to treat leukaemia. In fact, this is a type of adult stem cell transplant using haematopoietic stem cells. They have been carried out successfully since the late 1950s. Stem cells from umbilical cords could be used instead – in fact stem cells are more easily extracted from cord blood than bone marrow – but they contain only a limited volume of blood and hence a relatively small number of stem cells.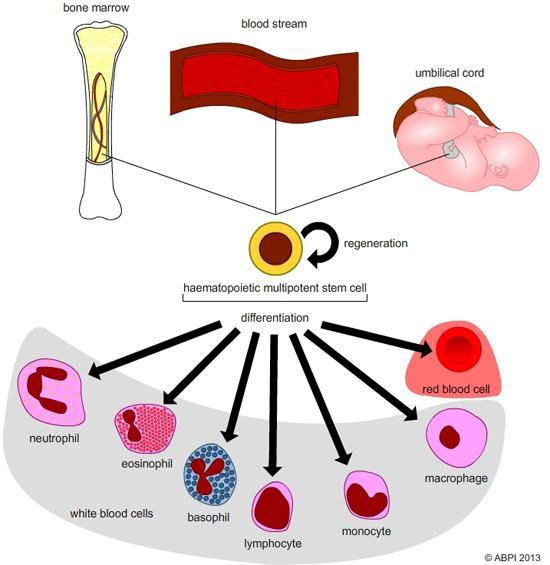 Adult stem cells sourced from the bone marrow, the blood stream or the umbilical cord blood can all differentiate to form many different types of blood cells.